Clinical Trials
Bridging clinical trial data with real-world data for unrealized insights into the patient journey
Up until now clinical trial data and real-world data have existed as separate silos, blocking insights into what's happening to patients before, during, and after trial.
By expanding your vision of each patient beyond the constraints and time period of the clinical trial, you can now take advantage of key missed opportunities in clinical trial development and execution:
Extend clinical trials to address long-term outcomes
Lower patient and investigator burden by leveraging and linking to RWD
Design external control arms using regulatory-grade RWD
Maintain patient journey visibility, even after trial drop out or trial end
Execute post-marketing surveillance to address regulatory commitments
Generate value evidence for payers through long-term outcome tracking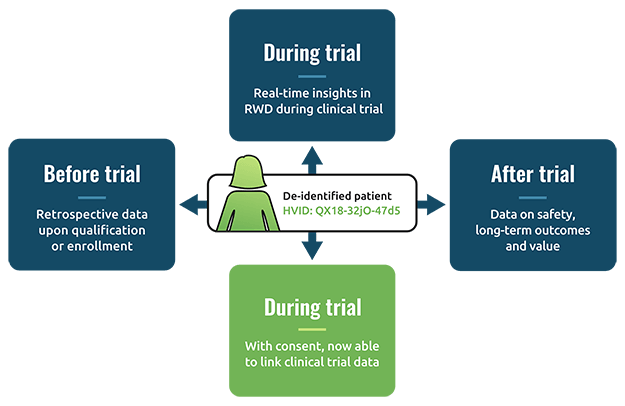 Before Trial

Validate patient history and comorbidities before trail begins.
Gain insights into previous interventions, procedures, and other healthcare activities.
During Trial

Gather additional real-world data points throughout the active trial.
Avoid missing out on non-reported information such as urgent care visits and other insights on efficacy and adverse effects during the trial.
After Trial

Monitor patients for longer term outcomes and safety studies.
Future proof your studies by following patients in the real-world to understand long-term outcomes and value.
How it works
Clinical Trial and RWD Linkage is powered by HealthVerity IPGE, the industry's leading infrastructure for patient identity resolution, privacy, governance, and exchange of broadscale healthcare and consumer data. Here's how the process works: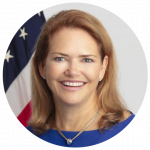 "As we explore how robust analyses of real-world data can inform FDA's response to COVID-19, partners like HealthVerity will help us to identify and evaluate data sources that can be used to answer crucial questions, like how COVID-19 affects different patient populations."
Dr. Amy Abernethy
- Former Principal Deputy Commissioner Acting CIO at FDA
HealthVerity is in a category of its own
Probabilistic matching technology resolves patient identity data with 10x greater accuracy than industry alternatives
Centralized referential database is continuously updated for dynamic matching across time and data sources
One-stop solution, including data normalization, privacy compliance, governance, contracting, and delivery for streamlined implementation
Integrated into your workflows with flexible options for data input and data delivery, including at patient sites to support DCTs
Broad, diverse RWD ecosystem comprised of medical claims, lab data and results, pharmacy claims, EMR data, hospital chargemaster data and social determinants of health data
Prioritize diversity and inclusion per FDA mandate
A breakthrough way to expand the inclusion of minority groups in clinical trials and health plan networks by understanding the racial mix of patients under the care of each provider.
Directly address the FDA draft guidance on minority inclusion in clinical trials
Identify clinical trial investigators with more diverse patient populations of interest
Enhance strategies to diversify patient recruiting efforts
Highlight physicians who are more likely to treat minority patients at higher risk
REQUEST DEMO
Privacy and RWD data expertise to expand patient insights before, during and after your clinical trial.
To explore our clinical trial solutions, fill out the form with your contact information.